Product story
PEEK gears feasible in an automotive powertrain application
The automotive industry is on the move. As the sector evolves towards electric vehicles and low-emission technologies, Evonik continues to promote new energy-efficient applications for its High Performance Polymers in the automotive world.
The company is currently supporting a  research project at TU München looking to replace traditional, forged-metal transmission parts with light weight plastic gears made of VESTAKEEP® PEEK. The gears will be subjected to demanding real-world conditions such as oil-lubrication, high temperatures, and intense levels of torque, friction and wear. If successful, this would be the first-ever demonstration of high-performance polymer gears replacing an integral part of the drivetrain in an electric-powered passenger vehicle. Such a breakthrough could one day lead to a whole new range of applications for polymer gears.
In the ongoing pursuit to support partners in developing new applications with its high-performance polymers, Evonik is providing data and product support to a project using VESTAKEEP® PEEK for the first time ever as load-bearing gears in a motorized transmission. The project is being led by researchers at the technical university of Munich (TUM) and pushes the limits of PEEK (poly ether etherketone) materials by using it as a direct replacement for metal gears in an electric vehicle drivetrain.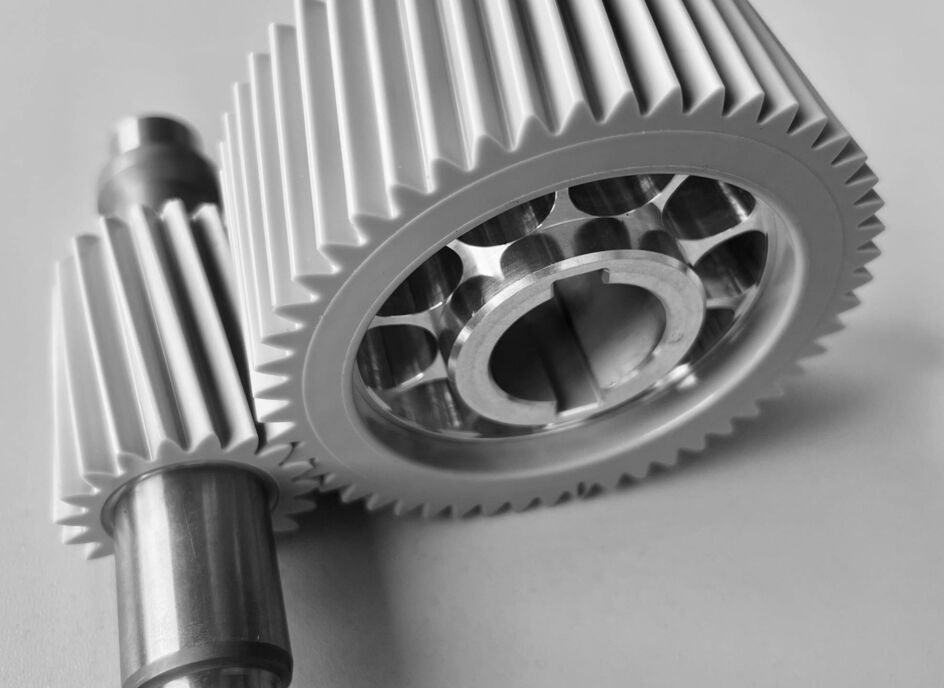 A POLYMER WITH HIGHLY SOPHISTICATED ATTRIBUTES
Known for its special capabilities among polymers, Evonik's VESTAKEEP® PEEK is an already highly sought after material within the evolving automotive industry, valued for its unsurpassed ability to withstand high temperatures as well as its oil-resistance.  The high impact strength, and the dynamic, tribological performance of products made with this material are also key to its use in  demanding mechanical environments. Another benefit is that when running, plastic gears made of VESTAKEEP® PEEK emit several decibels less noise than their traditional metal-based counterparts. Even with the evolution to hybrid- and fully electric-powered vehicles in the automotive sector, this material can benefit the industry for many years to come.
Substituting metal with plastic naturally requires a serious amount of cutting-edge engineering and research. This is true especially when it comes to load-bearing gears in a motorized vehicle's transmission. To test the capabilities of such an application, the researchers at TUM engineered and incorporated special gears made from Evonik's VESTAKEEP® 5000 G in the transmission of a Renault Twizy electric vehicle. A one-seater concept car symbolizing the ongoing electric-powered evolution of the automotive industry, the test vehicle was an ideal choice for learning more about the stresses and performance of PEEK in this novel environment, as well as hopefully come to conclusions about whether the material could be used in scaled-up applications sometime in the future.
"Evonik's VESTAKEEP® PEEK is truly a versatile polymer," said Professor Stahl, head of the project's research team at TU München. "We chose this material due to its astounding strength, chemical resistance, lightweight properties, wear resistance and proven ability to reduce the coefficient of friction in tribological applications," he said.
Made by the experienced plastic gear manufacturer, Werner Bauser GmbH – Kunststoff-Verzahnungstechnik, two VESTAKEEP® 5000 G components were specially designed to allow in principle a replacement of the original metal gears in the electric test-vehicle's drivetrain. Such a design made it possible to compare whether PEEK gears could act as a viable substitute without major modifications in the existing drivetrain setup.
"As specialists in the production of plastic gears, our goal in this exciting project is to show that plastic has the potential to be a profitable replacement for heavier, noisier and less efficient metal gears in a modern electric vehicle," said Thomas Simon, Head of Marketing and Sales at Bauser GmbH.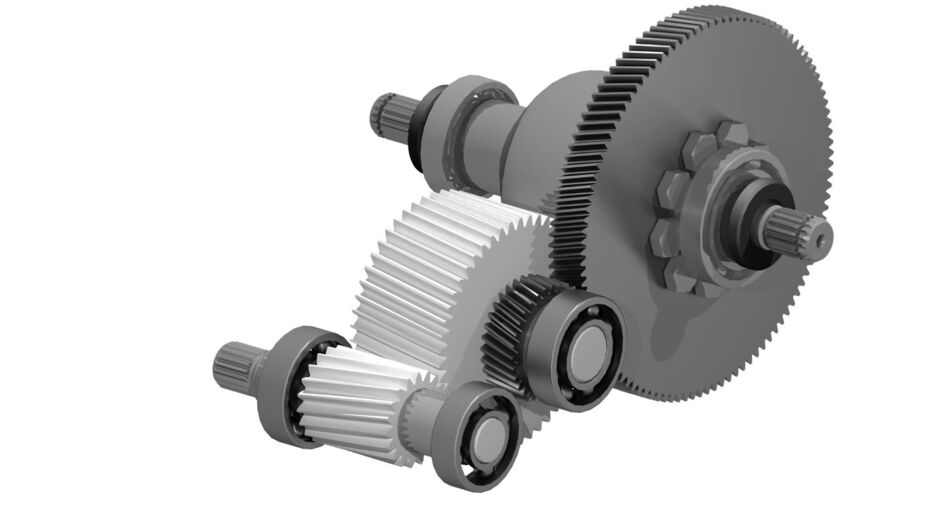 ADVANTAGES OF VESTAKEEP® PEEK GERAS VS.METAL GEARS
Due to its molecular properties, one disadvantage of metal compared to plastic is its high density. When smart plastic gear solutions are used in similar applications, a gear made of metal can weigh more than one made of plastic. Finding a way to replace the metal gear by a lighter plastic gear, however, would reduce the overall rotating mass of a transmission and lead to a higher degree of mechanical efficiency. In fact, studies have shown that in passenger cars, one-third of the fuel energy is used to overcome friction in the engine, transmission, tires, and brakes [1]. The viable replacement of metal gears with PEEK plastic gears could have the benefit of increasing the energy efficiency of a vehicle – a constant goal in automotive engineering. It would also make the transmission quieter, due to PEEK's natural noise-absorbing qualities. Additionally, plastic gears might be more cost-efficient due to the injection molding process used to produce polymer parts, which is unique and much more economical than the process commonly used for metal part production.
EXPERTISE IN PEEK DEVELOPMENT
To assist the researchers at TUM, Evonik's experts supplied the team with technical information, materials data, and simulation expertise on VESTAKEEP® PEEK from Evonik's Tribology Hub in Darmstadt, Germany. The Tribology Hub features special equipment for testing plastic gears in strenuous environments including variables in humidity, lubrication and temperature.
"Part of Evonik's strategy  is to drive further developments in VESTAKEEP® PEEK  molding compounds. We work in close partnership with our customers to develop specific, high-performance applications made with our products," said Philipp Kilian, head of tribology development at Evonik's High Performance Polymers business line.
Evonik's research and testing in stronger, quieter PEEK gears in this area has already led to some interesting results.  In 2022, Mercedes-Benz started manufacturing a mass balancer gear made of Evonik's VESTAKEEP® 5000 G. Exposed to oil and high temperatures, the VESTAKEEP® gear was able to drive a balance shaft needed to counter out the vibrational forces of a rotating combustion engine. It was the first time a plastic gear was used in such a demanding application where previously only metal gears were used.
"In addition to the material's strength and dampening effect, gears made from PEEK also are quieter – this is a characteristic that is becoming increasingly relevant, especially in electric vehicles, where the noise of a traditional combustion engine is eliminated," said Philipp Kilian.
Concerning the electric-vehicle VESTAKEEP® drivetrain gears project, the research team at TUM have already noted some interesting results. Already 10,000 km into bench-testing, the PEEK gears are still running within specifications and showing no signs of damage. Road testing has also commenced, with the streamlined, one-seater electric vehicle starting to log 100 km in a closed circuit.
"We have planned extended tests regarding durability, efficiency, and noise behavior. We expect that the hybrid metal-VESTAKEEP® gears will prove to be suitable for the given application," said Professor Stahl.
THE OUTLOOK FOR PEEK IN HIGH-PERFORMANCE APPLICATIONS
As for the future of VESTAKEEP® PEEK as a replacement for metal gears in the automotive industry, Evonik has plans to continue engaging in research and development work with key partners.
"With VESTAKEEP®, we truly have an excellent high-performance polymer for tribological applications, such as gear wheels," said Karl Kuhmann, head of polymer technology development at Evonik's High-Performance Polymers business line. "VESTAKEEP is extremely resistant to chemicals and high temperature, and it also significantly reduces the coefficient of friction and noise behavior compared to traditional metal gears. Cooperating with great project partners – like the team at TUM– helps demonstrate the amazing potential of this material."
[1] Global energy consumption due to friction in passenger cars Kenneth Holmberg et al, Tribology International, Volume 47, March 2012, Pages 221-234